I had so much fun designing this bathroom - firstly it is in my own home, secondly it was inspired by a fabulous trip to New York and a stay in the stunning Refinery Hotel - always good to have a source of inspo and what could be better than a holiday - every time I set foot in the completed bathroom it transports me back to the fabulous week I spent in New York with my hubster - special or what!!
The original ensuite was not glamorous and we lived with it for far too long before we had the budget to get it done. I dislike 'before shots' so finished ones only here! But believe me when I say this was well overdue.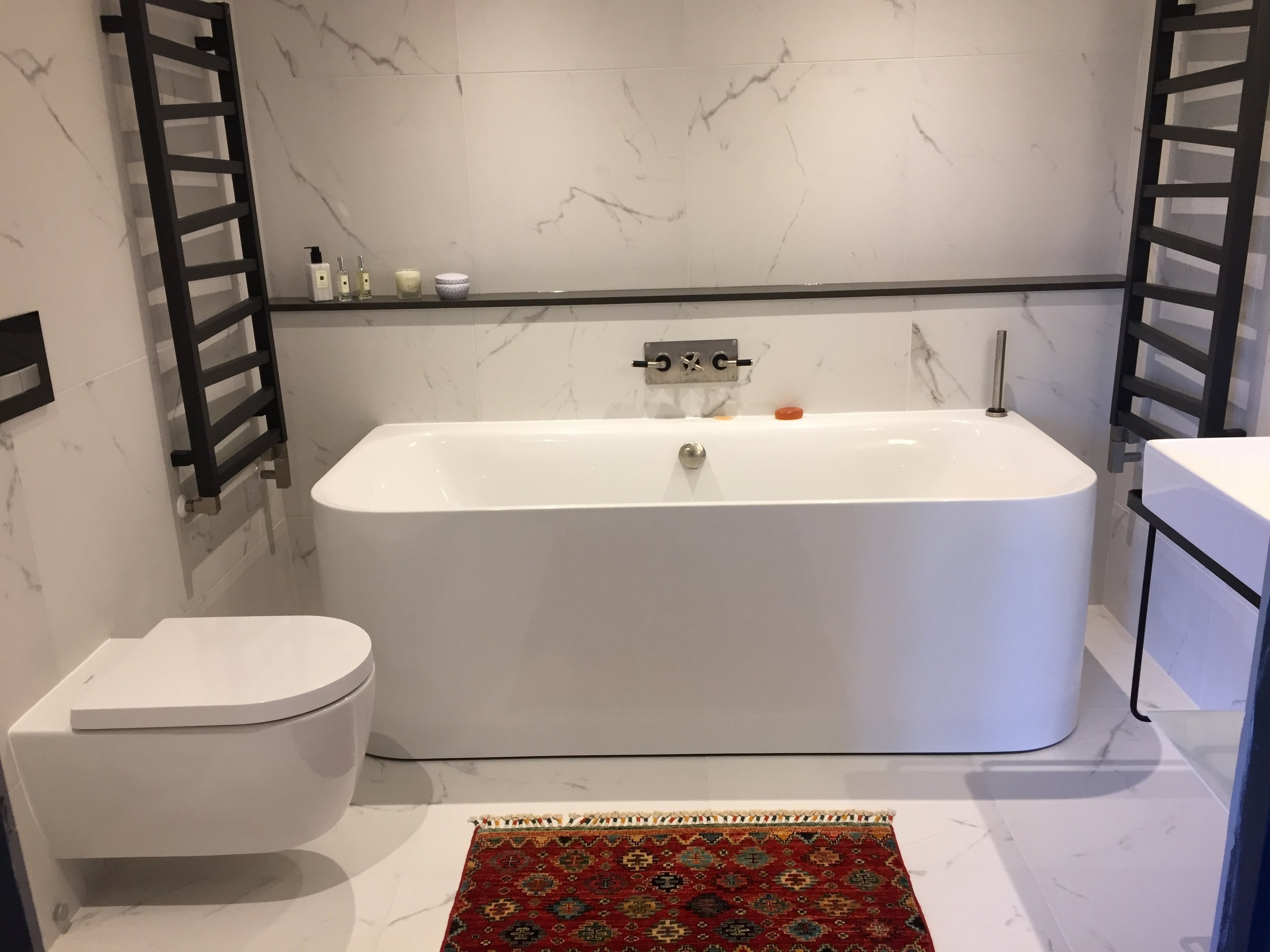 As with all my projects, the process began with fundamental space planning, understanding the scope and limitations of the project, interrogating the original ensuite in a quest to understand the good, the bad and the just plain ugly in the existing space, before any design work commenced. Then there was our wish list, turned out to be as long as my arm, actually as long as an Orangutan's arm! On it we had, shower, bath, basin, some 'lust' have taps, beautiful tiles, and the more mundane but hugely fulfilling, storage, off the floor WC, mirror demister pad, and pee lights!!!!
Successful interior design is the result of fully understanding your client's brief, exploring the spatial possibilities, creative boundary pushing and compromise. The original ensuite had everything shoe-horned into it, shower, bath, WC, basin and bidet but no storage! There were nasty boxed in pipes at a low level which just collected dust - as ensuites go it is a descent size but with all that kit it in it, it was cramped and completely overworked.
We spent some time deciding what we really wanted out of the bathroom, thinking about the end point and working back to the beginning. We wanted to enjoy the space and make it a relaxing experience from our busy lives. We also wanted storage, good ventilation, style and function. The space suffers from a pretty low ceiling, so the shower has its own issues, we both like a soak in the bath so that had to stay. I have a love of focal points, something stunning, so every time you set eyes on it, you get that fuzzy feeling of satisfaction - so a killer basin area was on my list of wishes with a super comfy bath for those long lengthy soaks. I needed to find a solution for one of my pet hates - unsightly electric toothbrush chargers and the unattractive collection of bottles of shampoo, shaving foam, razors, etc that we all need to hand, but really don't add to the look of a paired back calm bathroom.
We wanted it to be simple uncluttered, classic and stunning - Dieter Ram's quote "less but better" resonated with us. Remember this is our brief - and every brief is personal and to be honest you shouldn't really worry about what others think - it is your space it needs to float your boat.
I mentioned compromise; in our case we dropped the shower cubicle in favour of a bath with a shower handset. We have a family bathroom with a shower cubicle and bath in it, so it was not such a huge compromise - if you have one bathroom then do try to get both a shower and bath in for resale purposes. This decision gave more space for our stunning bath, we went for the Duravit Happy D, with Samuel Heath Landmark taps which floats our boat on a choppy sea of satisfaction. Centring it on the back wall gives maximum impact, it has smooth lines and is supremely comfortable.
The Duravit Durasquare washbasin with stand, is a handsome fella - stylish, elegant, and has stature at a metre wide - if our morning routines are out of kilter we can both be at this beauty at the same time. It is not strictly designed as a his and hers ensuite, but we did go for a towel rail each. Above the basin sits an antique bronze mirror - I wasn't too worried about matching the black of the basin and other details here, as long as the antique bronze was dark enough I knew the eye would read it as similar, the size was very important though and there was quite a search to find the perfect proportioned mirror - found it at the brilliant 'Westelm' and popped a de-mister pad on its rear, it sits beautifully with these wall lights by Astro sourced through Amos Lighting - I like to steer away from the full co-ordinated look - a curve ball here and there shakes it all up and adds to the uniqueness of the space by keeping it edgy. We swapped the opening side of the door so now we have the fabulous impact of the basin and bath as soon as you open the door - in the previous bathroom it was the WC on full view - eeeeuuuuwwww!!
Putting a stunning and colourful Afghan rug on the floor was my second curve ball - beautiful and vibrant it takes the place of a bath mat and adds a wallop of colour into the space - I sourced this one from Olney Rugs.
The WC - is a WC right? wrong! - there are many varied options - if possible, I would recommend the back to wall off the floor versions, for looks, practicality of cleaning and getting rid of that horrible interface of pan and floor - you won't regret it. We added in two tiny lights at near floor level either side of the pan, activated by a PIR, so during the night they come on automatically when you enter the space, with just enough illumination to find your way but not to wake you up.
Storage - we opted for a simple gloss cabinet that sits behind the door in an alcove, we store everything in it, the game changer is the shaver socket hidden on the top shelf - we now have permanently charged toothbrushes. The cupboard sits near to the WC, so our toilet paper is in here too, no annoyingly placed holders that you have to be double jointed to reach.
Oh my days - I nearly forgot to mention one of the most important ingredients in any interior project - the lighting!! We have 2 circuits as well as the Pee lights, circuit 1 are recessed down lights, these are positioned over the bath, in front of the cupboard and over the basin - they do not need to form a symmetrical grid on the ceiling, - this is a myth - they need to be placed directly above where you want the light to hit - I cannot stress this enough. On circuit 2 are the gorgeous wall lights, these are at our head height either side of the mirror not only do they effectively light your face - on their own they offer a more ambient light to bathe by, the 'Silestone' shelf at the back of the space is a great surface for some well placed candles - oh wait - that means we have 4 different lighting effects!!
The final piece, in this jigsaw and most important is to find a great bathroom supply and fit firm, that are on the same page as you - we discovered South West Tile and Bathrooms where we found Jamie who had fantastic product knowledge, so when we suggested something he could put his hands on it, and their team of fitters had meticulous attention to detail and truly took pride in their work - the job ran smoothly and our old bathroom was transformed.
I am not going to lie to you - I am thrilled every time I set foot in here and if I catch a glimpse through the door it makes my heart sing loudly. Job done!